MEET OUR ROCKSTAR TEACHERS!
We've all seen 'Ferris Bueller's Day Off' and hoped like hell that the person educating our babies was a helluva lot more engaging, ammi right?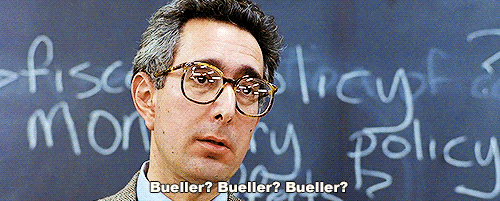 Peita is a Minister's Award for Excellence in Teaching recipient (for achieving record-breaking HSC results – but shhhh don't tell her, she'll get a big head). She is a teacher trainer, expert speaker and lover of literature. She's a pusher and is renowned for her dogged determination to help her students achieve incredible results. Prior to teaching, Peita worked in the film industry for Walt Disney Pictures, Sony Pictures and Universal Pictures as a National Publicity and Promotions Manager. Hobbies include baking at inappropriate hours and lurking outside of her comfort zone. Snickerdoodle Cookies (look them up, they're to die for) are her vice.
Rob absolutely HATED Mathematics as a child (unlike a lot of Maths teachers) and we think this is the precise reason he's so darned good at explaining its tricky concepts to students. His background in the corporate sector means that he always links his teaching of mathematical concepts to a real-world setting, tackling the 'when will I EVER use this in my life' question, head on! His never give up mentality is known to rub off on his students and he is forever providing outside of hours support to Cookies stuck on particular maths problems. He is a prime target for any student selling charity chocolates and has opted for the full box more times than he will admit. He's also a mean basketball player (his Cookies say he's pretty nimble for an old fella!) A soft (non-crunchy) choc-chip cookie is the way to his heart.
Matthew is a veteran Head Teacher of Science (formerly HT at Kinross Wolaroi School). He tackles Chemistry and Physics with our Cookies and is universally loved for his ability to slip a dry joke in when students least expect it! Cookies note Matthew's dedication in ensuring they have the skills, resources and know-how to improve their results. Matthew is a keen cyclist who is recovering swiftly from a double knee surgery. If the pace at which he takes the CCA stairs are any indication, he'll be recovered in no time! And if you catch him munching on a cookie treat, it will be a Cranberry and White Chocolate cookie.
Michelle has 35 plus years of teaching experience, many of those as a Head Teacher of Mathematics at Kinross Wolaroi School. She has recently joined us (still pinching ourselves) and brings her IMMENSE teaching talent to Advanced, Extension 1 and Extension 2 Mathematics at CCA. Michelle has been awarded with both the NSW Minister of Education and Training Award AND the Australian College of Educators Quality Teaching Award. When she isn't solving simultaneous equations, Michelle enjoys family time, a dip in the pool and knitting. A fan of the classics, she can't go past a good old chocolate chip cookie.
Nicolette is a powerhouse English teacher whose diverse career has included stints at Billabong High School and Orange High School as well as London's St. George's Hanover Square Primary School in Mayfair, London. She's met Prince Charles and Camilla! Yep – true story! Our Nic was also the English specialist at Reddam House in Sydney. A passionate educator, Nicolette is especially gifted at ensuring students grasp the 'basics' to enhance their skills and, importantly, their writing outcomes. An avid karaoke fan, Nicolette brings that same infectious energy to CCA and is most likely to be dunking an ANZAC cookie in her tea when she feels the hankering.
Julie is our resident Miss Honey (in fact, we reckon the casting director on Matilda totally got it wrong!). She's taught for over ten years in schools from Wodonga to Sheffield, UK! She is equally as impactful to Kindergarten cookies as she is for students in upper Primary school. Julie loves helping children to grow in confidence as learners, and gets a twinkle in her eye as she speaks of the buzz she gets when they have "ah-ha!" moments! Fun fact? Students wishing to run away from Julie will find that pretty much impossible as she's also completed two marathons! What a woman! Her lust-after Cookie? Melting Moments…mmm…
Maddie is a total quadruple threat! She's Secondary English trained, she's our 'Wrangler of Mayhem" at CCA (totally her job title BTW), she's studying her way towards a Master's of Commerce AND she's a champion horserider to top it all off! We're so lucky to have Maddie's exceptional organisational skills and can-do attitude permeating through CCA HQ! Her favourite Cookie is none other than a Reese's Pieces Peanut Butter Cookie!
(That's pronounced 'Bride – Oak' by the way. Not Brideokey). This absolute teaching legend has a staggering 41-year teaching career teaching Mathematics at all levels at Canobolas HS and Kinross Wolaroi. Being the high achiever she is, she has HSC marked for 17 of those years. Bridie has an insatiable passion for her subject, such that she nerds it up whenever she has a free moment, writing questions and solving them! And when not solving tricky maths problems, you will likely find her at the Netty courts. Fave cookie? The classic…chocolate chip!
Tom is the new kid on the block at CCA. The dulcet tones of his baritone voice would send Barry White weak at the knees! He is a double-threat holding qualifications in both Mathematics and Science (including Physics and Chemistry). Yep…total nerd alert…in the BEST possible way!
Michelle is a unicorn of the teaching trade holding qualifications in BOTH primary and early childhood teaching. Upon having her own Cookies, Michelle decided that there was much students needed to know before heading to school, so she added another degree to her belt! Now, she splits her time between working at CCA and heading up the incredible transition program at one of our high performing hidden gem schools in the Central West! Having led a school readiness program with PROVEN success equipping students with the skills for the transition to formal schooling, Michelle is EXACTLY who we need to be teaching our 'Lil Cookies!
You know that teacher that primary aged kiddies run at full speed towards to give a big hug? That's our Liv! Currently kicking goals in the classroom as a full time teacher, Liv manages to find time in her busy hockey playing, musical doing, Harry Potter reading life to blow our Cookies' minds! She's a jokester and Cookies will love the way she inserts humour into her teaching. Cookies love learning from Liv and we are sure her sessions are going to be a hot ticket! Her favourite Cookie? Macadamia and White Chocolate Chip and we reckon if she's a bit nutty she's going to fit in around here just fine!