MEET OUR ROCKSTAR TEACHERS!
We've all seen 'Ferris Bueller's Day Off' and hoped like hell that the person educating our babies was a helluva lot more engaging, ammi right?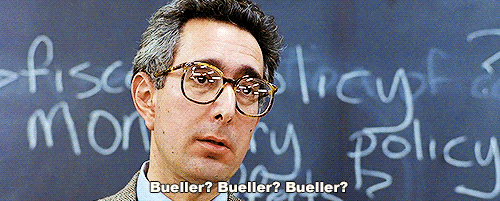 Peita is a Minister's Award for Excellence in Teaching recipient (for achieving record-breaking HSC results – but shhhh don't tell her, she'll get a big head). She is a teacher trainer, expert speaker and lover of literature. She's a pusher and is renowned for her dogged determination to help her students achieve incredible results. Prior to teaching, Peita worked in the film industry for Walt Disney Pictures, Sony Pictures and Universal Pictures as a National Publicity and Promotions Manager. Hobbies include baking at inappropriate hours and lurking outside of her comfort zone. Snickerdoodle Cookies (look them up, they're to die for) are her vice.
Rob absolutely HATED Mathematics as a child (unlike a lot of Maths teachers) and we think this is the precise reason he's so darned good at explaining its tricky concepts to students. His background in the corporate sector means that he always links his teaching of mathematical concepts to a real-world setting, tackling the 'when will I EVER use this in my life' question, head on! His never give up mentality is known to rub off on his students and he is forever providing outside of hours support to Cookies stuck on particular maths problems. He is a prime target for any student selling charity chocolates and has opted for the full box more times than he will admit. He's also a mean basketball player (his Cookies say he's pretty nimble for an old fella!) A soft (non-crunchy) choc-chip cookie is the way to his heart.
Our Gay has had a fascinating career in administration. She's worked for Blowes, Orange Primary School, Orange East Primary School, Orange High School and Canobolas High School. Most recently, Gay has been working for the Department of Education (Corporate Sector) so, clearly, she's super unqualified and a terrible fit for CCA…NOT! Our Cookies have been known to bypass Gay's desk for a sneaky treat as they head to their sessions or for a lovely chat and gah…we don't know what we'd do without her! Wipes tears away.
Gay's cookie of choice is a homemade Monte Carlo! Mmmmm…hope you're sharing, Gay?
Matthew is a veteran Head Teacher of Science (formerly HT at Kinross Wolaroi School). He tackles Chemistry and Physics with our Cookies and is universally loved for his ability to slip a dry joke in when students least expect it! Cookies note Matthew's dedication in ensuring they have the skills, resources and know-how to improve their results. Matthew is a keen cyclist who is recovering swiftly from a double knee surgery. If the pace at which he takes the CCA stairs are any indication, he'll be recovered in no time! And if you catch him munching on a cookie treat, it will be a Cranberry and White Chocolate cookie.
Nicolette is a powerhouse English teacher whose diverse career has included stints at Billabong High School and Orange High School as well as London's St. George's Hanover Square Primary School in Mayfair, London. She's met Prince Charles and Camilla! Yep – true story! Our Nic was also the English specialist at Reddam House in Sydney. A passionate educator, Nicolette is especially gifted at ensuring students grasp the 'basics' to enhance their skills and, importantly, their writing outcomes. An avid karaoke fan, Nicolette brings that same infectious energy to CCA and is most likely to be dunking an ANZAC cookie in her tea when she feels the hankering.
Michelle has 35 plus years of teaching experience, many of those as a Head Teacher of Mathematics at Kinross Wolaroi School. She has recently joined us (still pinching ourselves) and brings her IMMENSE teaching talent to Advanced, Extension 1 and Extension 2 Mathematics at CCA. Michelle has been awarded with both the NSW Minister of Education and Training Award AND the Australian College of Educators Quality Teaching Award. When she isn't solving simultaneous equations, Michelle enjoys family time, a dip in the pool and knitting. A fan of the classics, she can't go past a good old chocolate chip cookie.
With almost a decade of primary teaching under her belt, Carolyn brings her enthusiastic, bubbly attitude towards children and teaching to the Academy. She is known to do the odd handstand push-up and rides her bike around 250 km every month (she'd nearly be in sunny Queensland… had she kept going from January!). Lucky Carolyn likes to exercise a lot, as she also likes to indulge in melting moment cookies a lot. She also loves to hang out with her three teenagers and can't get enough of the smell of freshly cut grass. Carolyn will be teaching our Cookies primary English and maths.
So WHO is the bombshell leading 'Sound Squad'? It's none other than Charlie Parker!  Why? Well to name a few reasons…
She's been a lead singer of a band for 20+ years (yes, we know..SO youthful!!! It's the face cream we reckon!)
She's a bloody musical genius and anyone who knows her work can attest to this!
She's starring in the upcoming OTC production of Mamma Mia as Donna (yep, that's the big kahuna role) so she's got the voice, the moves and the X factor
She's a stellar human being, and guys, we're big on this as at CCA we have a no A-hole policy when it comes to hiring!
Charlie, a purveyor of white chocolate and raspberry cookies, would choose George Michael to sing a duet with and her favourite song to sing in the shower is Kylie Minogue's, 'Better the Devil You Know'!
You know that teacher that primary aged kiddies run at full speed towards to give a big hug? That's our Liv! Currently kicking goals in the classroom as a full time teacher, Liv manages to find time in her busy hockey playing, musical doing, Harry Potter reading life to blow our Cookies' minds! She's a jokester and Cookies will love the way she inserts humour into her teaching. Cookies love learning from Liv and we are sure her sessions are going to be a hot ticket! Her favourite Cookie? Macadamia and White Chocolate Chip and we reckon if she's a bit nutty she's going to fit in around here just fine!
Dale is a mum of three boys and a veteran (ahem, 20 years+) of the Primary Teaching game – specifically in Years K-2. She's a total softie with her students and is regularly knocked over with hugs in the playground, at the supermarket…you know, anywhere they find her! Students regularly call her Mum and Nan…(hello Spec Savers) because they feel that gosh darn comfortable with her! Lessons with Dale are a total cup of chicken soup! She's as particular about her choc chip cookies as she is about her sessions too. They've gotta be soft and of the Subway variety!